Each month one of our subscriber/s features as our "Proprietor in the Spotlight". Their stories highlight the ups and downs and the highs and lows, of life as a B&B proprietor.
We hope these glimpses into the reality of their lives, helps you to feel a part of the 'family' of Bed & Breakfast News subscribers - being a B&B owner can sometimes feel like being a little fish in a big pond - we hope these features redress that balance - you are not alone!
---
Bed, Breakfasts and Brides!
Meet David & Veronica Worth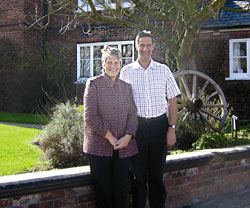 For the past 18 years, David and Veronica Worth have run their B&B, Sandhole Farm, in the village of Hulme Walfield, Congleton, Cheshire. This particular B&B has an added attraction for visitors because they can even choose to get married there!
In the Beginning
David and Veronica moved to Sandhole Farm after their wedding in 1970. This was the first time David had moved home and the move involved a trip of just half a mile away from the family farm! Indeed on his mother's side, the family has lived within one mile of Sandhole Farm continuously, for at least 100 years. His father, being much more adventurous, had moved a full two miles from the neighbouring parish of Marton, when he married David's mother in 1947!
From 1970, the farm was used to grow mainly cereals and potatoes, as well as keeping a few sheep. However in 1989 a decision was taken to cease growing the cereals and potatoes and those fields, some 200 acres, were sown with turf grass. This is now harvested, on average, about every 18 months. Also in 1989, Veronica started the Bed & Breakfast side of the farm's new life, with three rooms within the farmhouse. However, it wasn't long before a decision was taken to convert some of the stable block into 15 luxury en-suite bedrooms. The conversion work was carried out over a period of five years. This work included making a kitchen for guests to use, as well as a guests' lounge, which is often used as a conference room.
Star studded Guest Book
The oldest part of the stable block is believed to be about 300 years old, with the roof timbers dating back a further 50 - 60 years. By combining the old with the new, the bedrooms are very popular with both leisure and business visitors. Many TV personalities have come to stay at Sandhole Farm. These include Blue Peter's Katy Hill, E.R. star, Alex Kingston, and the veteran presenter of Stars at Night, Patrick Moore.
Here Comes the Bride!
In 1994, when the Marriage Act was altered, allowing Civil Ceremonies to be held in places other than Register Offices, David and Veronica decided to hold weddings at Sandhole. This proved very popular and two years ago, they were lucky enough to get planning permission to build a green oak wedding barn. The barn has been built to a traditional design, using high quality workmanship and materials and can seat up to 150 guests. The oak beams are mellow and impressive, in the style of a medieval barn.
Impressive wrought iron cartwheel chandeliers and wall lights (made by a local blacksmith) add to the ambience of the barn. Under-floor heating ensures a warm welcome, while strategically placed feature cast-iron radiators can give an extra boost, if needed during the cold winter months. The oak-floored 'Ceremony Barn' doubles as a dance floor at night and the reception barn has been tastefully carpeted. There are large linen curtains which divide the two barns during a wedding ceremony. Drinks can be taken on the veranda overlooking an idyllic six acre lake and the bride and groom can retire to pretty cottage, only a stride away from the venue. In addition to weddings, the barn is used during the week, for conferences.
A bit stressful!
Since their expansion, David and Veronica no longer do all the catering themselves - brides are able to book the services of several local caterers and Sandhole has a good team of staff, who pull out all stops to get the rooms serviced between weddings and the venue itself cleaned, before the next wedding. Veronica says, "Sometimes when there are four weddings, over a long weekend, life can be a bit stressful!"
David and Veronica remain today an important part of their local community, as they were in the early days of their marriage, as farmers. These days, they provide work for local people and they are also 'environmentally aware' - all bottles and papers are recycled and of course, the building is built from natural green oak.
A Family Affair
David and Veronica have three children who have grown up with the B&B business. They have all been away to university and the two boys have now moved back home and started a turf growing and selling business - which keeps the whole family extra busy in the summer months. Jenny, their daughter, works in Richmond, Surrey as a Senior Recruitment Consultant but she would eventually like to come home and help to run the wedding/conference business with her parents.
At times Sandhole is very busy with wedding guests, accommodation and people wishing to buy turf. The atmosphere however, remains tranquil due to the lovely countryside and the farm's lakeside location. Sandhole has numerous telephone lines, to cater for the diverse activities and all the modern technology needed to run a successful enterprise, including free WI FI internet throughout all the buildings. Veronica says "Times have certainly changed from growing cereals and the early days of having three bedrooms in the house - but David still likes to go out into the fields and do a bit of farming!"
---
A new career in middle age
- to 'Bee' recommended!
Meet Christine & David Tams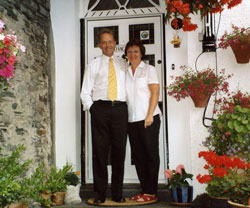 In the spring of 2002 Christine (a pharmacy technician) and David Tams (a heating engineer) were staying at their favourite Guest House in the Lakes - enjoying a break from their stressful jobs. Whilst chatting over breakfast, their hosts explained that they were about to retire, after 28 years of running their B&B. David and Christine began to wonder if they could buy the house and carry on the business - but the idea was quickly dismissed when the price was mentioned. Property in the Lakes can be very expensive!
However, a seed had been planted in their minds and after much discussion and some persuasion by David, the search for a suitable property began the following August. David had joked that as they were bee keepers they could run a Bee and Bee! Keswick seemed a nice town to live and work in, so estate agents were called upon on a regular basis, to see what was on the market. As soon as anything came up, it was viewed. David said that the car knew it's own way up and down the M6, while Christine said she wasn't making the journey anymore!
At last, along came the 'right property', but owing to the sale of their own bungalow, they missed the opportunity to buy it twice. However in October, as they were making their way home via Ambleside, feeling dejected and convinced that their dream was 'just not meant to be', they found the local estate agent had a house called 'Kingswood' on the market...they quickly arranged a viewing and an offer was made. As Christine now says - "Kingswood found us!" The house was duly purchased and the couple moved up to the Lakes with their bag and baggage - plus two hives of bees!
As the previous owner had left Kingwswood up and running, Christine and David had a full house of guests on their very first morning on 10th January 2003. Christine now looks back on it with a smile and says "We were nervous, but it all went well". The first thing to be changed was the sign, which is now the shape of a bee hive and so the house became 'Kingswood Bee and Bee'.
"The bee theme fell into place from there really" they explained. A collection of honey pots, a lucky find of some bee-shaped napkin rings from the local garden centre and honey pots from a shop in Hawkshead, for the breakfast tables were added. David wouldn't tell us how he managed to get the butter pats like honeycomb with little bees on though!
As well as the house growing in size (with the addition of another room) they now have eight hives of bees, which supply honey for breakfast and a little bit to sell. "Guests don't seem put off by the hives in the garden, in fact many are fascinated and want to look inside" says David. "Kingswood Bee and Bee has become a novelty and well known in the area. The website draws a lot of enquiries and interest, being that little bit different and unique.
Guest numbers have risen since a 16' high and 14' deep hedge was removed and their garden was created. David continues, "Chris was delighted recently when we won the cup in the local flower show, for the best garden in the Small Hotel and Guest House category. Now that the house can be seen from Lake Road, people walking past see me in all my bee gear and they decide to come and stay with us. Hopefully some of our guests might be inspired to take up beekeeping because it is becoming a dying art, like so many country pastimes".
---
A change of direction?
Meet Malcolm & Delia Colgate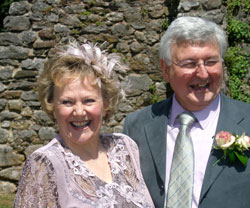 Malcolm and Delia Colegate run a small Bed & Breakfast, a charmingly converted stables, called Coachman's Cottage. Their home occupies a sunny south facing position in a tiny hamlet deep in the Devon countryside, although only 10 - 15 minutes drive from Torbay, Newton Abbot and Totnes. It is only a short drive to the open spaces of Dartmoor.
Malcolm has worked in agriculture for the last 20 years as an agronomist giving advice to farmers on soil fertility and general crop agronomy. He works in the area between Exeter and Plymouth in South Devon. A typical day would see him calling on 2 or 3 farmers a day and discussing their aims and objectives (difficult in these changing times within the industry), helping them to maximise their acreage and minimise their costs.
When he is not doing that, as a member of the Federation of Small Businesses (FSB), he is the Regional Chairman for Devon; this is a voluntary post which he has held for the past 6 years. Most of the time given to the organisation is in meetings with MPs, Local Authorities, promoting business in the area and working with other business organisations. With over 7,000 members in Devon, he has quite a job on his hands.
Delia, on the other hand, works for the FSB and has been the Regional Organiser for Devon for 11 years (wow where has the time gone). She is based at the Regional Office in Torquay and a typical day for her would start with a daily briefing with the other two members of staff in the office, helping a member to find the right advice needed for a particular business problem, writing an article for one of the local newspapers, representing the FSB at a meeting and possibly ending with a Networking Dinner somewhere in the county in the evening.
Having travelled the country in the course of business and stayed at a variety of hotels and bed and breakfast establishments, we thought we would like to run our own bed and breakfast. We had some definite ideas on what we thought was quality in terms of accommodation, furnishings and of course food and hospitality. Delia is an excellent cook having been a life long follower of her namesake Delia Smith. She had many years earlier completed a City and Guilds Professional Cooks' course and from my own experience I knew how much she cared about what she did in terms of delivery of any meal she prepared. So much so she is never fazed by any dinner party no matter how many are coming, said Malcolm.
We were looking to move nearer to Delia's Office in Torquay and started to look at Bed & Breakfast businesses for sale. We had some definite ideas of what we were looking for and were beginning to wonder if we would find the right place. After several false starts looking at various size properties we began to think that we would never find anything, bearing in mind Delia was to continue working so the size of the property we wanted was crucial as we didn't want to over stretch ourselves.
We had burned our bridges as far as our home in Ivybridge was concerned as the purchasers wanted to move in at the end of September 2004 so the pressure was on. Then one day, a call from the Estate Agent sent us off to look at The Coachman's Cottage. Although it was a dull, wet October day, I could see that Delia was in love with the property, it was "love at first sight" after a quiet rekki of the garage I put in an offer (the full asking price as there is no point in messing around when you have found what you want) and before we came away we had agreed to buy!
As I said earlier, we had already sold our house in Ivybridge and our purchasers were keen to move in. We knew we would not be able to complete the purchase of The Coachman's Cottage that quickly and so we made a quick phone call to some friends who spend their winters in Spain. They had offered us their home in Devon as a stop gap and we needed to take them up on their offer! Our furniture went into store and we spent two months at their home in Torquay, it's wonderful to have good friends!
As always, the process of purchasing did not go smoothly and there were times when we were on tenterhooks! But then, at the end of January 2005, we took possession. We set about making some of the improvements we had planned to make the house even cosier and 'guest friendly'.
One of the 'must do' jobs was to install a wood burning fire in the lovely stone fireplace in the lounge. Another was to add a shower to the en-suite bathroom in the guest room and some outside lighting, there are no street lights out here in the country! And in March we were ready to apply to South West Tourism to be accredited. The inspector was our first guest, so we had no chance to practice! We were delighted to be awarded 4 diamonds. In June we were 'open for business.'
Our first guest had booked in for a week and was attending a local retreat to recharge his batteries. Malcolm collected him from the railway station in the afternoon and brought him back. We all sat down with a cup of tea and some home made cake for a 'get to know you session' and then our guest, who we will call Peter, invited us to join him for a meal in the evening at a local restaurant.
Unfortunately Delia was working and so had to miss out but Malcolm and Peter spent a very pleasant evening. During the course of the meal Peter informed Malcolm that once he arrived at the monastery the next day, it was a silent retreat and he would not be speaking for the next week! He hoped we would respect this silence. Of course, it was not a problem and we all became very proficient at sign language!
We had been using Bed & Breakfast Nationwide for some years and had always been really pleased and so it seemed natural to apply to go into 'The Little Green Book'. We had our inspection and were thrilled to be accepted. Although we were not in any guides, between the local Tourist Information Centre and the Bed & Breakfast Nationwide Website, we had quite a few guests in our first season and last year with most of the main summer months nearly full, it was very encouraging and we already have some returnees booked for 2007.
Malcolm and Delia had been together for 8 years and in March 2006, Malcolm proposed. They were married on 24 th June at the local Church and the reception for 40 friends and family was held at their beloved Coachman's Cottage. It was a wonderful sunny day and the guests were able to enjoy the lovely gardens. We have no plans to extend the family beyond the present 5 children, joked Malcolm.
We are both very outgoing characters and have really enjoyed welcoming guests to our home. We have met some wonderful, interesting people and are really looking forward to the 2007 season. We are considering extending the property to add another en-suite bedroom and when Delia retires, we may even look for a larger house to expand our B & B business!
Subscribe to B&B News to meet more "Proprietors in the Spotlight" - and if you do - it could be you featured in the only magazine for B&B proprietors !