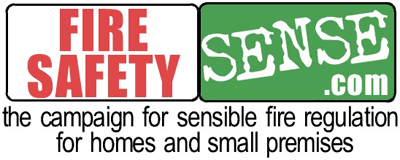 A major campaign about the damaging effects of the way the 2006 fire regulations are being enforced has recently been launched by nine national organisations representing the vast majority of small tourism businesses in the UK. The Campaign is highlighting the closures of small B&Bs and home-based businesses, and calling for common-sense and proportionality in what fire precautions are required in the home.
A website has been launched at FireSafetySENSE.com, and a 10 Downing Street Petition has been opened.
The Campaign calls on the Government to act to halt the damage being caused to very small businesses (including small B&Bs, families offering a self-catering room or flat, and home-based businesses) by the inconsistent and burdensome way the regulations are being enforced by local fire authorities.
In 2006 the Government abolished Fire Certificates and brought in a new self-assessment fire precautions regime under the Regulatory Reform (Fire Safety) Order (the "RRFSO"). It was intended as a deregulatory measure. Although it brought virtually all premises used by the public under the regulations, very small premises (now covered for the first time) were intended to be treated proportionately, bearing in mind their size and the actual fire risk posed.
The RRFSO requires owners to perform a "Fire Risk Assessment" and put in place "appropriate" fire precautions.
However in the two years since the new regulations were introduced, the trade associations behind the campaign have been inundated with calls from members threatened with closure or the enforcement of major works including fire doors, emergency lighting and sophisticated fire alarm systems associated with major commercial premises – often even in family homes offering one or two bedrooms on a "B&B" basis.
David Weston, Chief Executive of the Bed & Breakfast Association, commented: "many small B&Bs have already closed rather than substantially alter their homes or spend a five-figure sum in order to offer hospitality to a couple of guests – and the guests themselves are choosing B&Bs for their more home-from-home qualities. All our members are very fire safety conscious, but we don't see why commercial fire systems and fire doors are necessary, for instance, in a cottage which already has smoke detectors and fire extinguishers, and a careful owner staying on the premises".
Although the RRFSO specifically excludes "domestic premises", the Government's 'Department for Communities and Local Government' (DCLG) has declared that if even one room is let to a non-family member even occasionally, the regulations apply. This means that everyone who accommodates a student in their home, for instance, must comply or face a possible £5,000 fine.
This brings hundreds of thousands of households within the fire regulations regime for the first time ever – and hardly any of those affected yet realise what the Government requires of them. Including all these homes in the regulations will only be workable if "common-sense" applies in practice and minimal precautions are enforced on householders – the Campaign's supporters fear that this may not be the case, unless the approach used during the first two years of the regulations is substantially modified.
The "Fire Safety SENSE Campaign" is supported by the Tourism Alliance, the Bed & Breakfast Association, Alastair Sawday Publishing, Southwest Tourism, Tourism South East, Farm Stay UK, the English Association of Self-Catering Operators, and the British Institute of Innkeeping, amongst others.
The Campaign's launch follows the decision of the Fire Safety Minister, Parmjit Dhanda MP, not to issue guidance to local fire authorities, despite admitting that "an over-zealous and, in some cases, a disproportionate approach by some fire safety officers may be damaging both the [tourism] sector itself and the reputation of the Fire and Rescue Service".
For further detail, see www.firesafetysense.com
---
B&Bs facing closure due to heavy-handed fire regulation
call for "level playing field" with Scotland
Small B&Bs are being closed across England and Wales as many local fire authorities are over-zealously enforcing 2006 Government regulations. A campaign for 'Fire Safety SENSE' has been backed by representatives of 460,000 businesses and its Downing Street Petition reached the top 1.5% on the 10 Downing Street website but Ministers remain unmoved, calling for "more evidence" of closures.
In a stark contrast of approach within the UK, it has now emerged that enforcement against small B&Bs in Scotland has been put on hold by the Scottish Government, leaving those in England and Wales questioning the fairness of their treatment and asking how much the Westminster Government really values small businesses and tourism.
David Weston, Chief Executive of the Bed and Breakfast Association, commented: "many small B&Bs have already closed rather than substantially alter their family homes or spend a five-figure sum, when they already have appropriate fire precautions, in order to offer hospitality to a couple of guests. The Scottish Government has shown it can respond decisively faced with damage to tourism - which is clearly viewed in Scotland as a key industry. We call on the Westminster Government to take similar action to put England and Wales on a level playing-field".
Meanwhile campaigners have been staggered to discover that Whitehall plans to extend enforcement further south of the border, to homeowners hosting students. Everyone offering hospitality in their home – even for one night - with a contribution to costs, must perform a "Fire Risk Assessment" and install fire precautions or face a £5,000 fine, say officials at Hazel Blears' "Department for Communities".
The Scottish Government's decision to halt the enforcement of what they admit were "expensive and unnecessary" fire precautions on family B&Bs was taken at a meeting chaired by Fergus Ewing MSP, the Minister for Community Safety, on 16 December. Co-incidentally on the same day the Westminster Fire Safety Minister Sadiq Khan MP was telling representatives of the Fire Safety SENSE Campaign that he was unconvinced action was needed in England and Wales.
A spokesman for FireSafetySENSE.com said "we appeal to the Minister in London to do what his Edinburgh colleague has done, and call a halt to this heavy-handed enforcement whilst more sensible guidelines for fire authorities are worked out in consultation with the industry. The Government should act now to save small struggling tourism businesses, rather than work out ways to bring more homes into the regulations."
---
Firesafetysense - epetition response
From the Government, 10 Downing Street
Wednesday 18 February 2009
We received a petition asking:
"We the undersigned petition the Prime Minister to act to ensure that the 2006 Fire Regulations ("RRFSO") are enforced proportionately and consistently without onerous burdens on very small premises not justified by the actual risk."
Details of Petition:
"The Regulatory Reform (Fire Safety) Order 2005 (RRFSO), in force since October 2006, requires many tens of thousands of small home-based businesses to do a Fire Risk Assessment and put in "appropriate" fire precautions, bearing in mind the size of the undertaking. The way this is being enforced in practice by local fire authorities is inconsistent, and is frequently imposing onerous burdens, not justified by the actual risk, on very small premises (many of which are closing as a result, affecting tourism accommodation). We call on the Prime Minister to act to ensure that the proportionality intended by the RRFSO is delivered in practice in a "common sense" way as the RRFSO is enforced locally - thus ensuring that small home-based ventures are not threatened unnecessarily."
Read the Government's response
The Government recognises the essential contribution which micro-, small- and medium-sized businesses make to the British economy. The Government is particularly aware of the need to support such firms, and to ensure that regulatory and other burdens are risk-based and proportionate, during the global downturn. To help responsible persons, particularly micro-, small- and medium-sized businesses, comply with their responsibilities, the Government produced detailed guidance on the risk assessment process. This is available (to purchase or download free) at www.communities.gov.uk/firesafety .
The Government has recognised, however, that the proprietors of smaller premises offering accommodation may benefit from more tailored advice on the Order. The Government published on 18 November 'Do you have paying guests?' which can be downloaded from http://www.communities.gov.uk/publications/fire/payingguests
The Government worked in partnership with industry representatives, including many of those involved in the Fire Safety Sense Campaign, as well as with the Fire and Rescue Service itself to produce an information booklet on the requirements of the Order specifically for this sector. The booklet explains the risk assessment process, sets out sources of further advice and guidance and offers some practical information for owners on what may represent appropriate and proportionate fire safety measures in these more domestic-style of premises. Of course, the booklet can only offer generic advice: no two premises are the same and as a result, there can be no 'one size fits all' approach to fire safety.
The Government recognised that the Fire and Rescue Service may, in some instances, also welcome additional information and clarity on fire safety expectations in this type of premises. However the extent to which compliance is being delivered is a matter of professional judgement based on the specific circumstances of individual premises.
The Government welcomes the Bed and Breakfast Association's recent endorsement of the booklet in the January 2009 edition of Bed and Breakfast News.